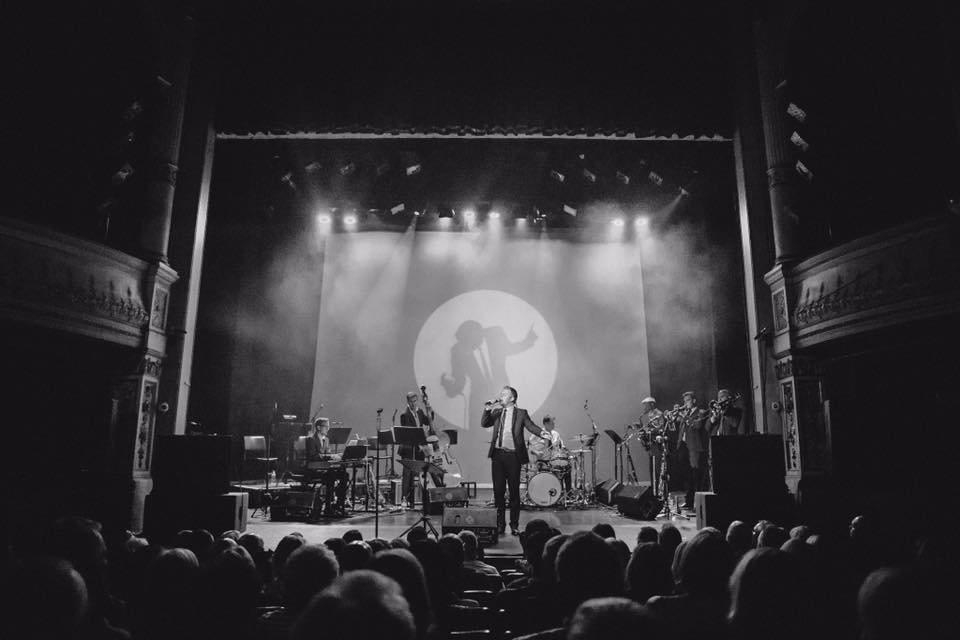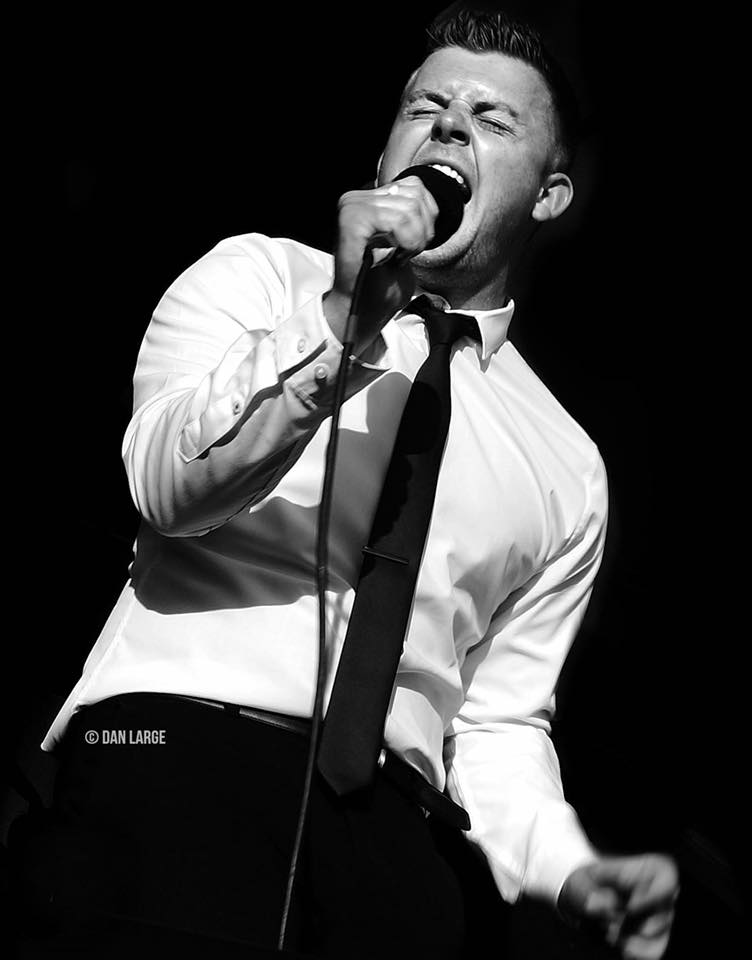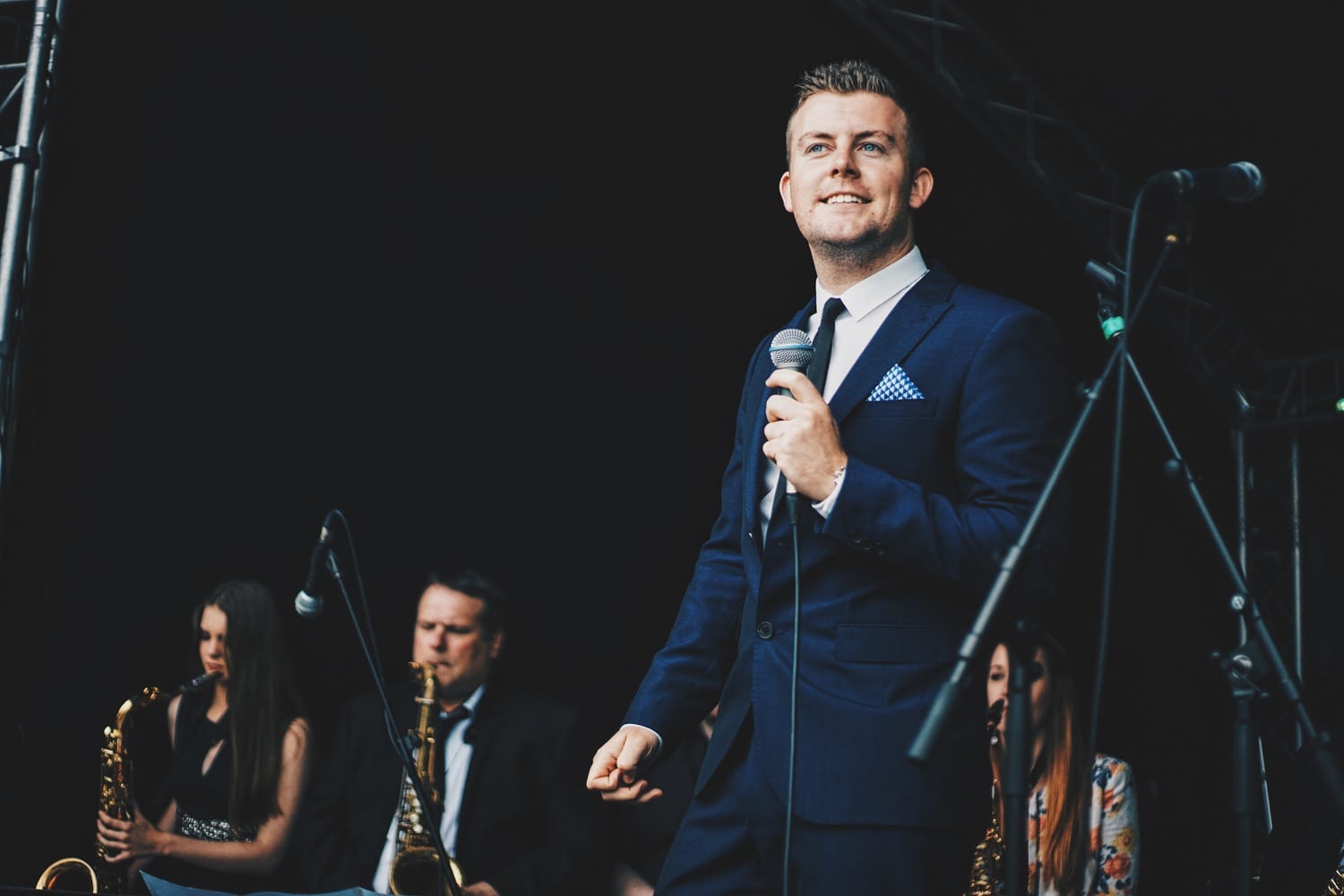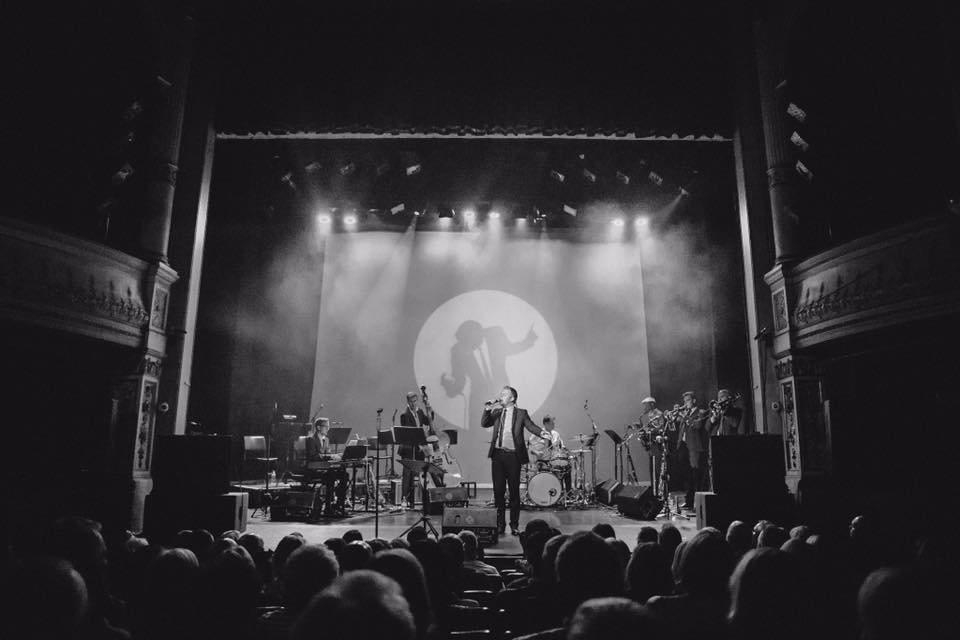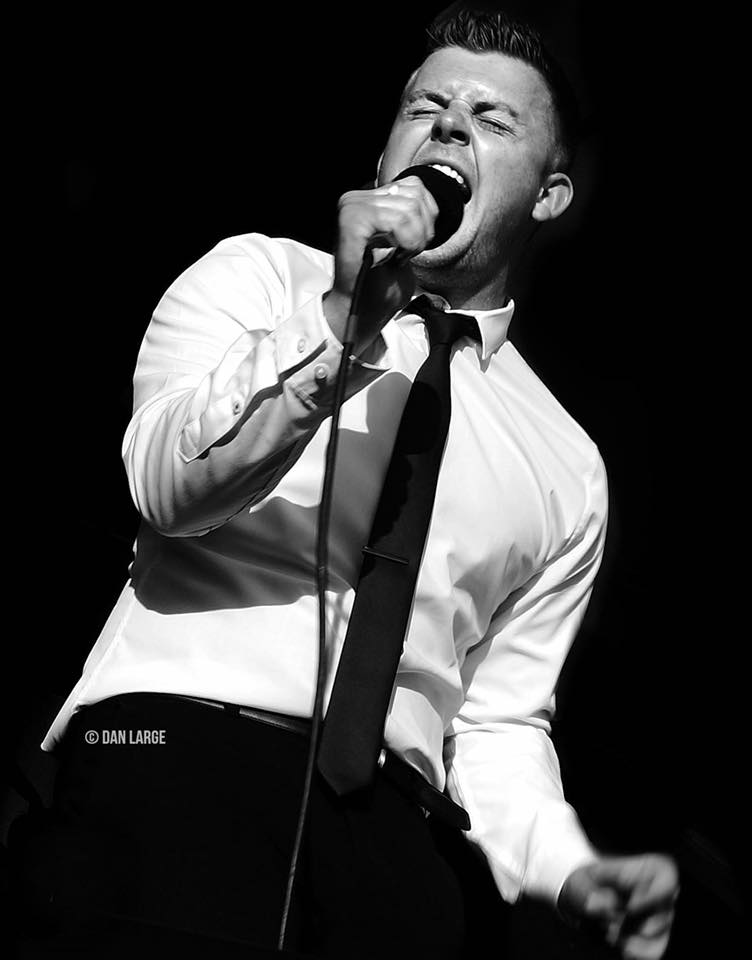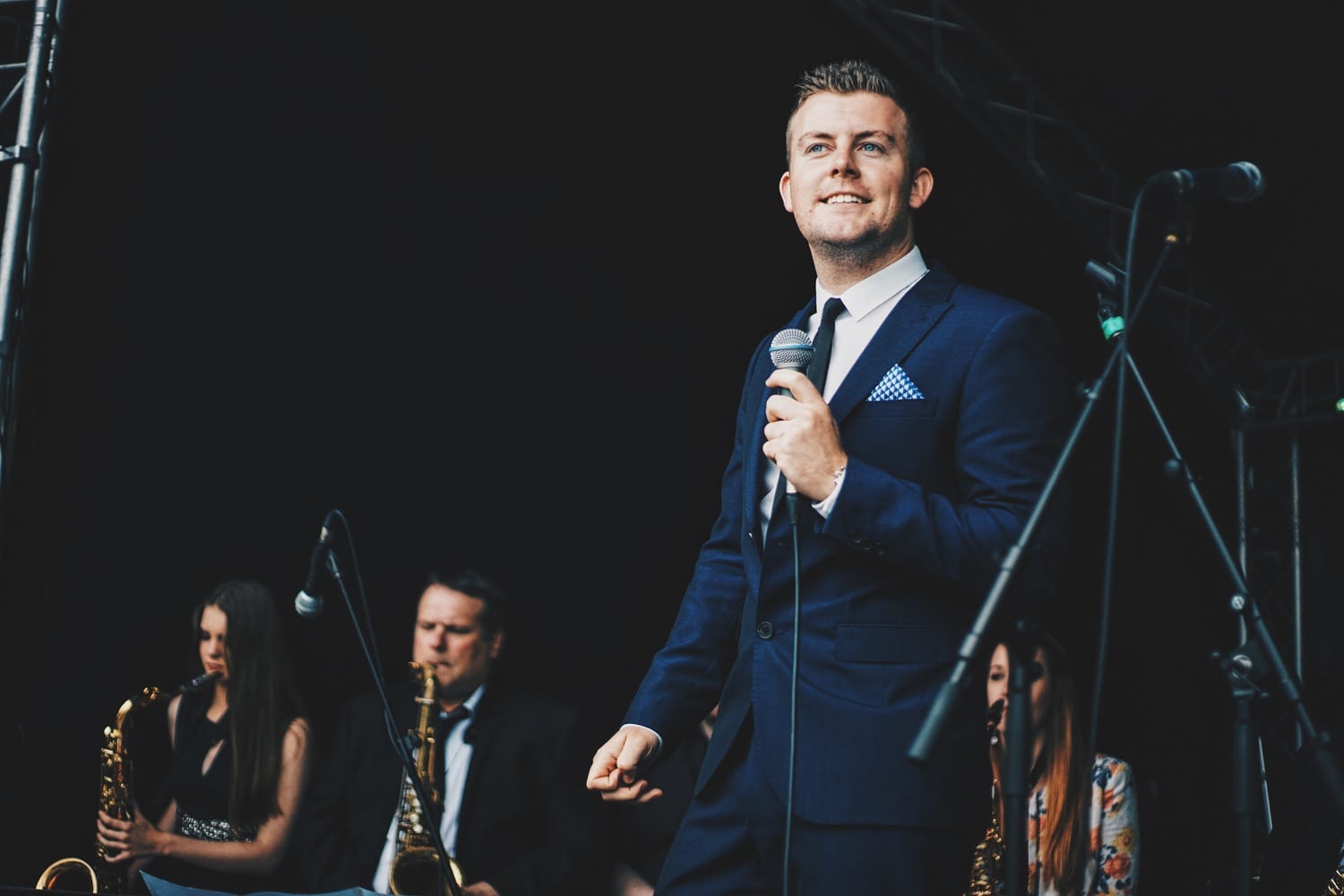 Tom Fitzpatrick Solo Performer And Band
Tom Fitzpatrick is highly recognised as one of the UK's most exciting Swing/ Jazz and Big Band singers out there. With a huge range both in scale and material Tom Fitzpatricks fresh, charismatic vocal talents and energy have held him in high regard.
Tom Fitzpatrick has performed at many high profile events including, outdoor arenas, various theatres, weddings, corporate events, performing on main stages at numerous festivals and two spots on Broadway in New York City. On occasions, Tom has performed at private functions in front of Celebrity V.I.P guests. In 2013, He won the "Young Entrepreneur of the Year" Business Award for his rising success in the music business at such a young age!
Now as a sought after guest vocalist in the UK, the USA, and Europe. Tom Fitzpatrick has worked with The Vince Dunn Orchestra, The Algarve Jazz Orchestra in Portugal, The 75 piece Sussex youth Orchestra and The Chris Thomas Big Band in Florida USA.
In various touring theatre productions, Tom Fitzpatrick has performed alongside top West End and Broadway Stars including Ruthie Henshall, Kerry Ellis (Lead roles in We Will Rock You, Les Miserables, Wicked in the West End and Broadway) and Keith Jack (BBC's Any Dream Will Do)
Tom Fitzpatrick has an extensive repertoire and sings a variety of material from artists such as Frank Sinatra, Dean Martin, Bobby Darin, and Michael Bublé, Nat King Cole, Jamie Cullum, Steve Wonder and many many more. Tom has a huge range both in scale and material which is sure to bring a lot of style, fun, and energy to any occasion.
Their collective credits include working with artists such as the legendary Jack Jones, Dave Stewart, Gwen Stefani, Pixie Lott, The Proclaimers, Buddy Greco, The Drifters, Freak Power and Trevor Horn to name but a few. Some members have toured with renowned artists Bruce Forsyth, Joan Rivers and Jools Holland to name but a few – involving considerable TV work such as Strictly Come Dancing and the National Television Awards.
Tom can supply 15-20 piece orchestra and other additional services please get in touch for more information
Tom Fitzpatrick Solo Performer And Band Is Perfect For
Corporate Events, Pubs, Bars, Outdoor Events, Concert Halls, Private Events, Private Functions, Social Clubs, Weddings, Sporting Events, Festivals, Working Men Clubs, Sports And Social Clubs, Parties, Clubs, Charity Events, Army Events, Theatre, TV, And Holiday Parks
Performance Fee: Please Call 07515789837 Agency Fees Do Not Apply
I would thoroughly recommend Tom to all that want a class act that is so enjoyable to listen to. Tom performed at my daughter Naomi and Chris's engagement party Saturday 26/01/19 and boy oh boy I was not disappointed. From the ease of booking to contract to sign, all my questions answered promptly and my demands were fully met. Tom is what I would call a genuine young man with impeccable manners. Tom entertained all the guests from the very old (85) to the youngest (5) who all got involved with swaying and then filling the dance floor up which he didn't mind at all. All of this just turned our evening into an extra special event which was personal to just us with an exceptional singer I can honestly say Tom you were fabulous and I can't wait to see you again soon.
N Hadfield-Strange,
Enquire About This Act
Hello, I'm Jeannette Webb the owner, MD and Queen Bee here at M8 Entertainment.
My goal is to give you THE best act for your event and ensure it all goes smooithly.
Please use our form to enquire about this act and we will do our best to reply either same day or within 24 hours during office hours. If you have an URGENT requirement it is always best to call us on...
Act Booking Hotline: 01772 631160
My Personal Mobile: 07515 789837
We look forward to adding the WOW Factor to your Corporate Event, Wedding or Special Occasion whatever it is you are celebrating.
What Our Lovely Customers Say About M8 Entertainments
Chelsey
"I have been working with Jen from M8 for five years now. we have live entertainment 7 days a week, twice at the weekend. These are things we love about M8. M8 provides the best entertainers at affordable prices from solos to bands. I can phone Jen at any time, I am sure she works… 24/7 and she will always sort everything out for me straight away. Jen is extremely helpful, she seems to be really liked by her acts as well. Jen and her team will go the extra mile, nothing is too much trouble, a first class agent." "Chelsey"
Chelsey
Liverpool
Asda
"M8 Agency went the extra Mile to organize a brass band for our morning event, also a cover's band for our afternoon event. Jen and her team were so helpful and understanding leading up to this very important event in Asda's calendar. All my worry was taken off my shoulders. It was a perfect day,… great feedback with regard to the entertainment. M8 are without a doubt a professional company. Very impressed with their service." "Asda"
Asda
Event Booker
"To say that M8 go the extra mile is an understatement. The team finds interesting and talented acts from original singer/songwriters, to cover acts and tribute bands. These guys literally are the fast hotline to a good time, the artists arrived on time, well briefed and professional. Outstanding!"
Event Booker
Marlow, Buckinghamshire
Paul Sweeney
"I've used this company for 3 years now, and they are by far the best agency I have used. And they are actually the only agency I would use now. The standard of acts is extremely high and also very diverse. They are also great to work with. I have also phoned they have booked… me acts at short notice and they were also of a great standard. Jen is extremely helpful booking agent and seems to be really liked by her acts also." "Paul Sweeney"
Paul Sweeney
Antic London
SMILE
"I just wanted to thank you personally for going all out, and finding us Shaun at short notice and understanding my frustrations at such a busy time. I know, I had already told you how good we all thought Shaun was but I just thought I would also send you an email as well. I… have got your details to hand for our next event and hopefully will soon be in touch again with a date. I have also have no problem at all in letting people know about your company and the excellent service and professionalism you had both shown, at all times it goes a long way." "SMILE"
SMILE
Preston
Gareth and Joan
"M8 is the best agency in the UK, I have used this company for 5 years now and Jen is always providing the best quality acts. Jen is the most helpful agent I have ever come across. Thank you for all your hard work."
Gareth and Joan
North East