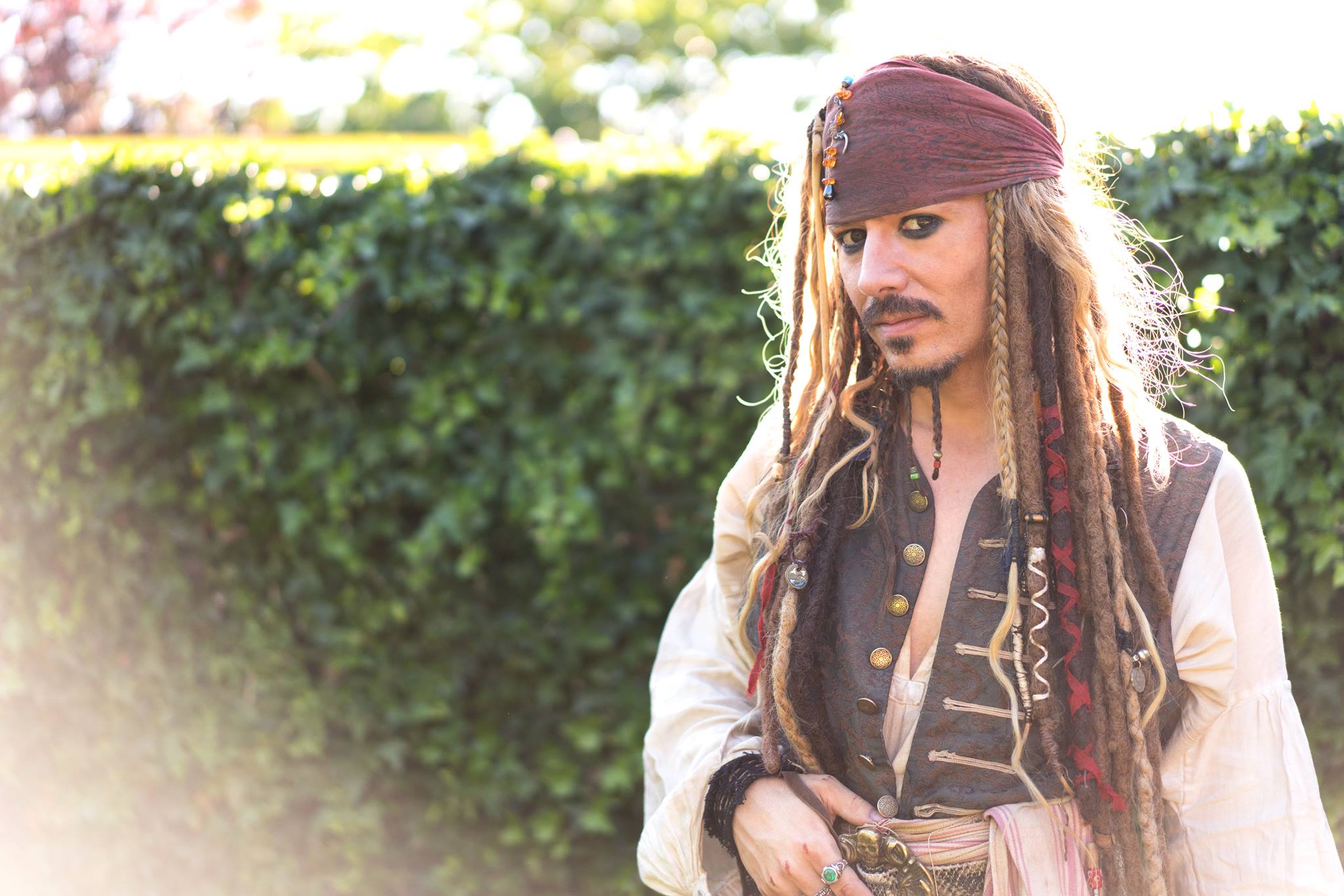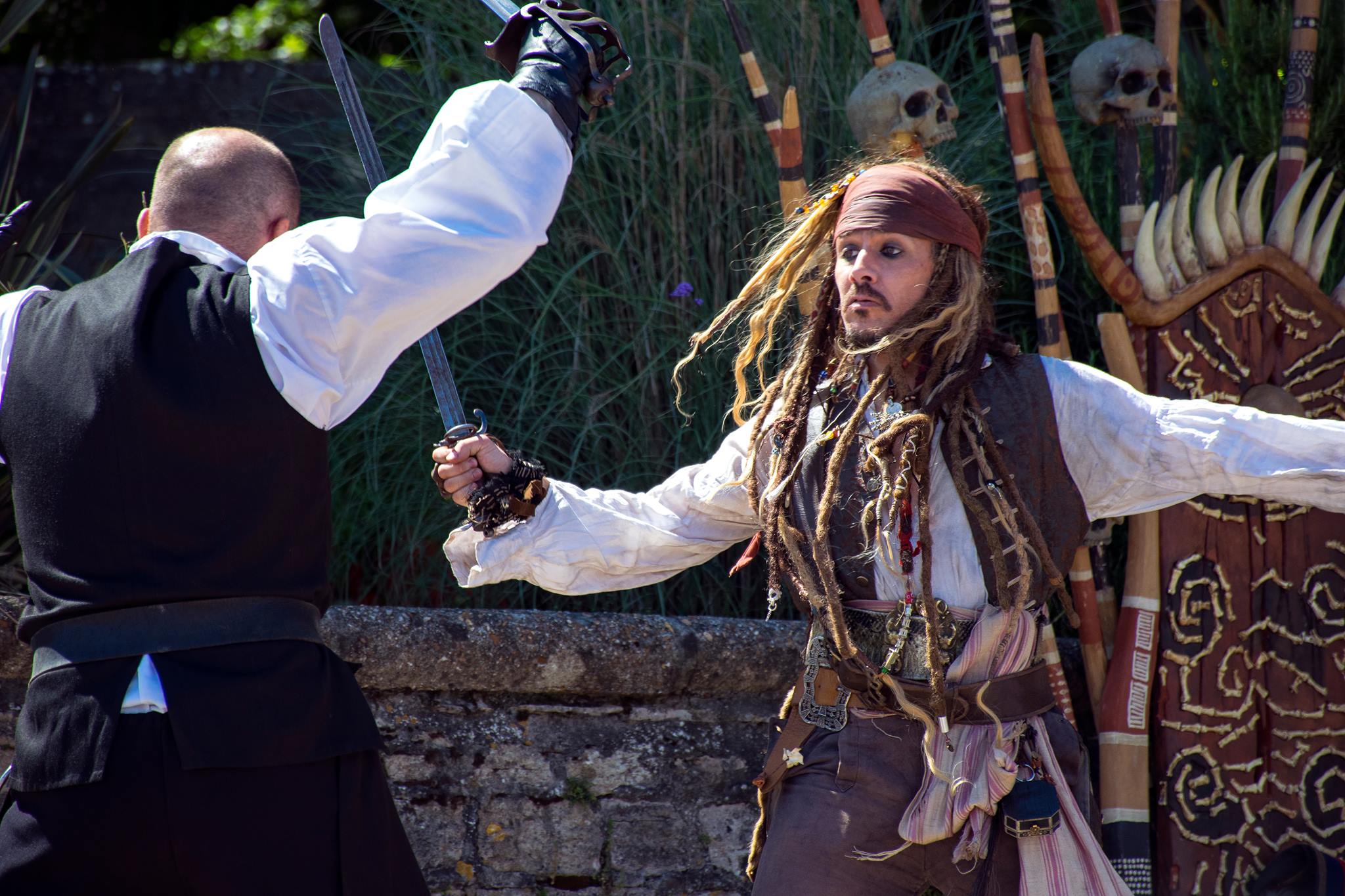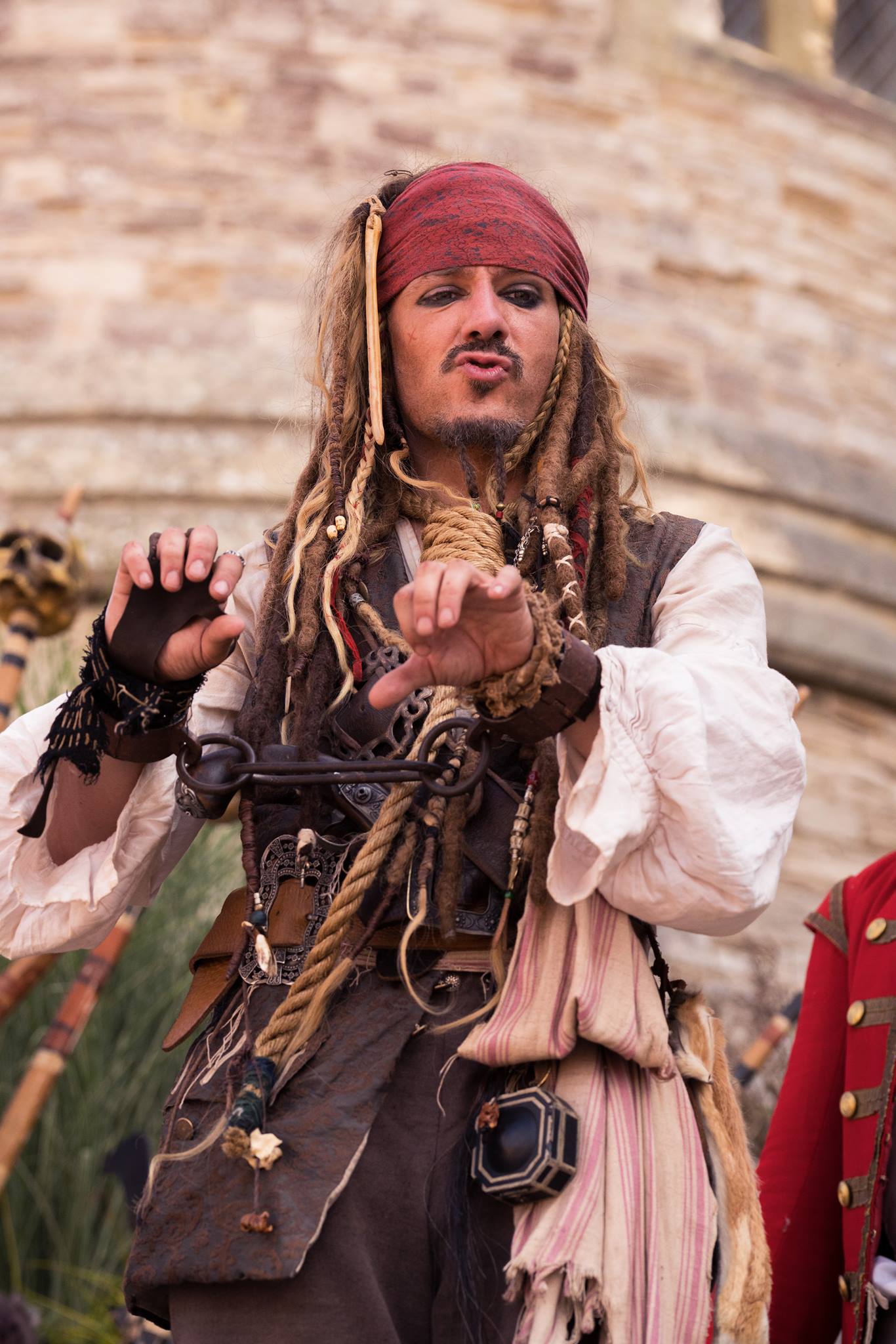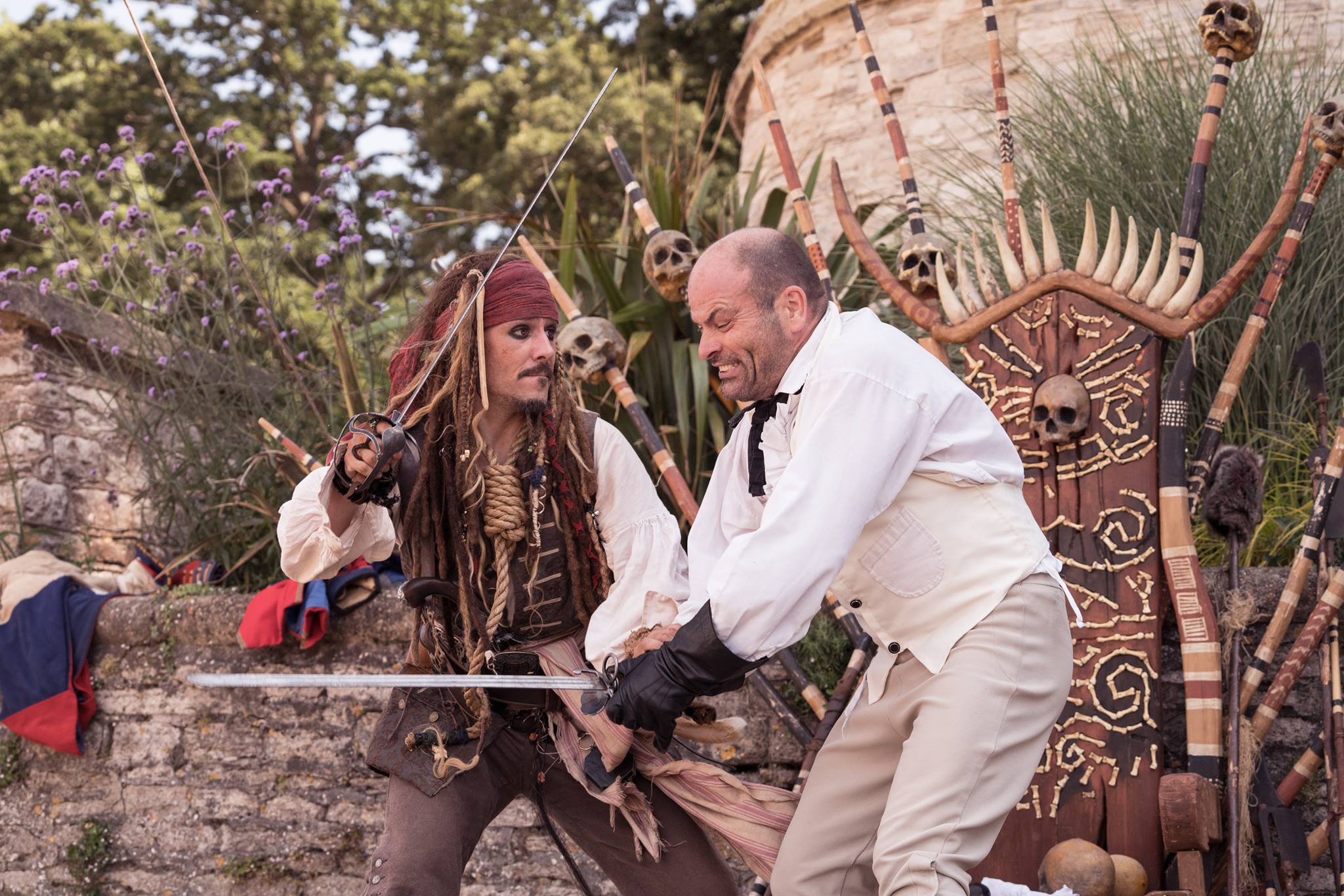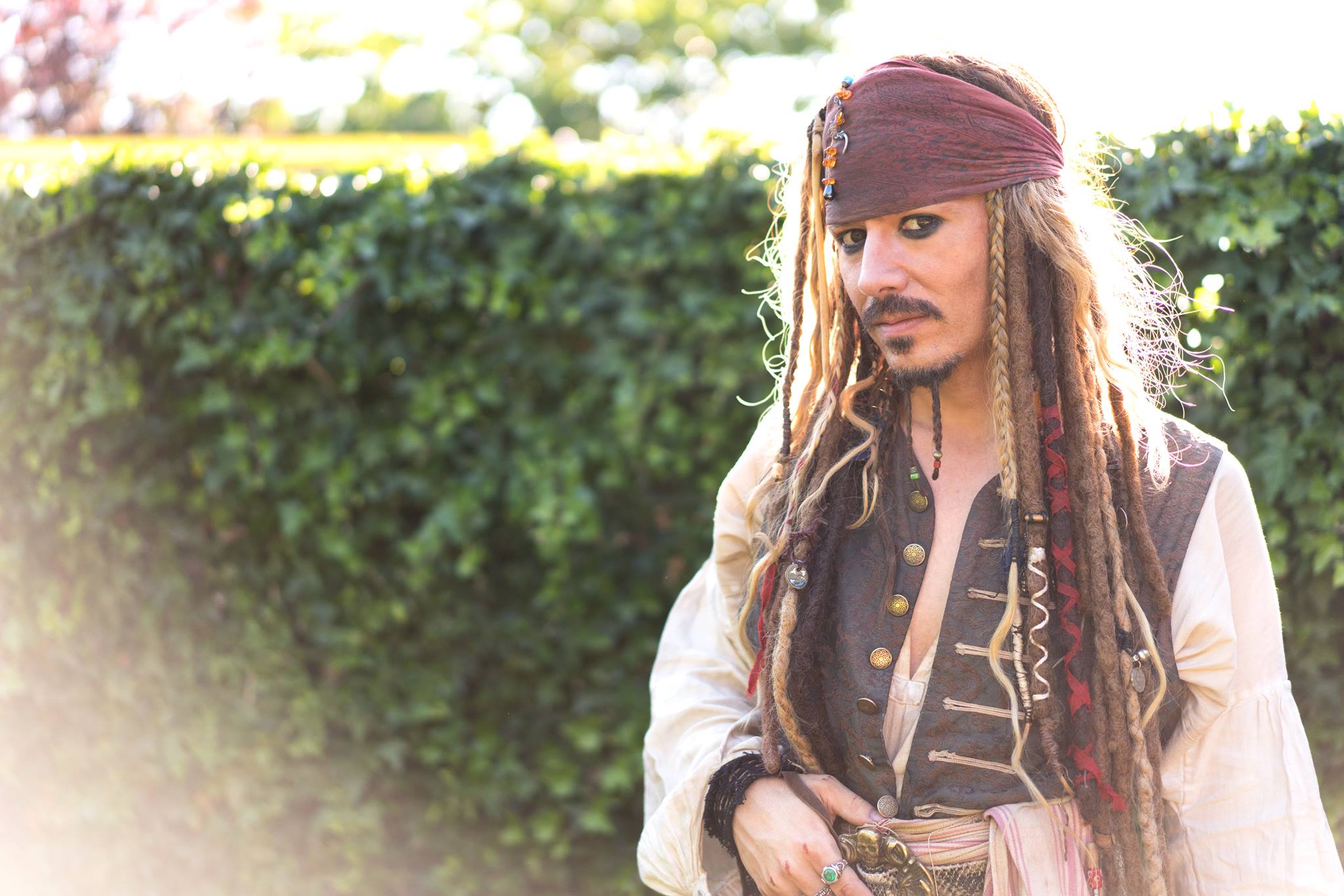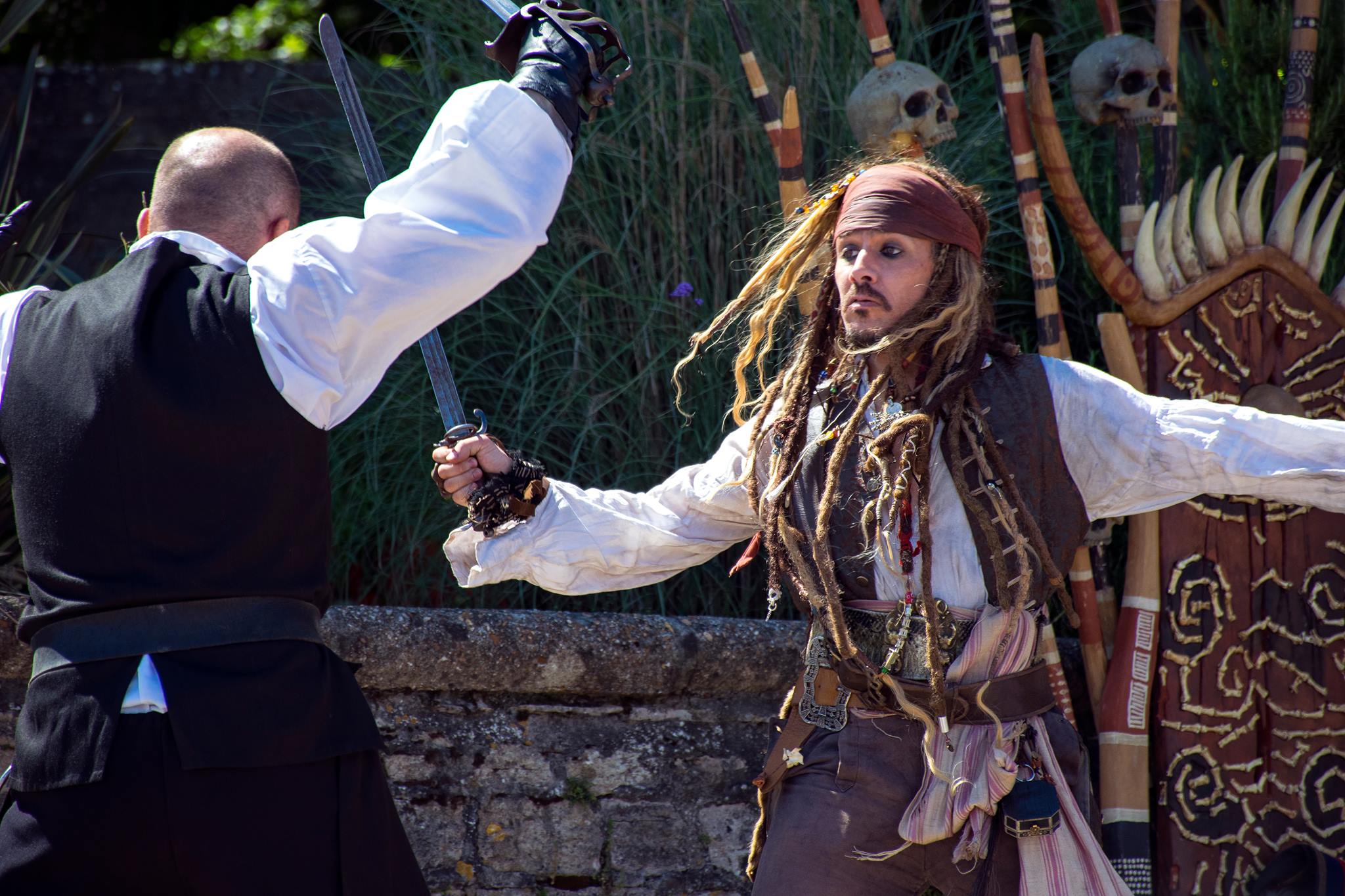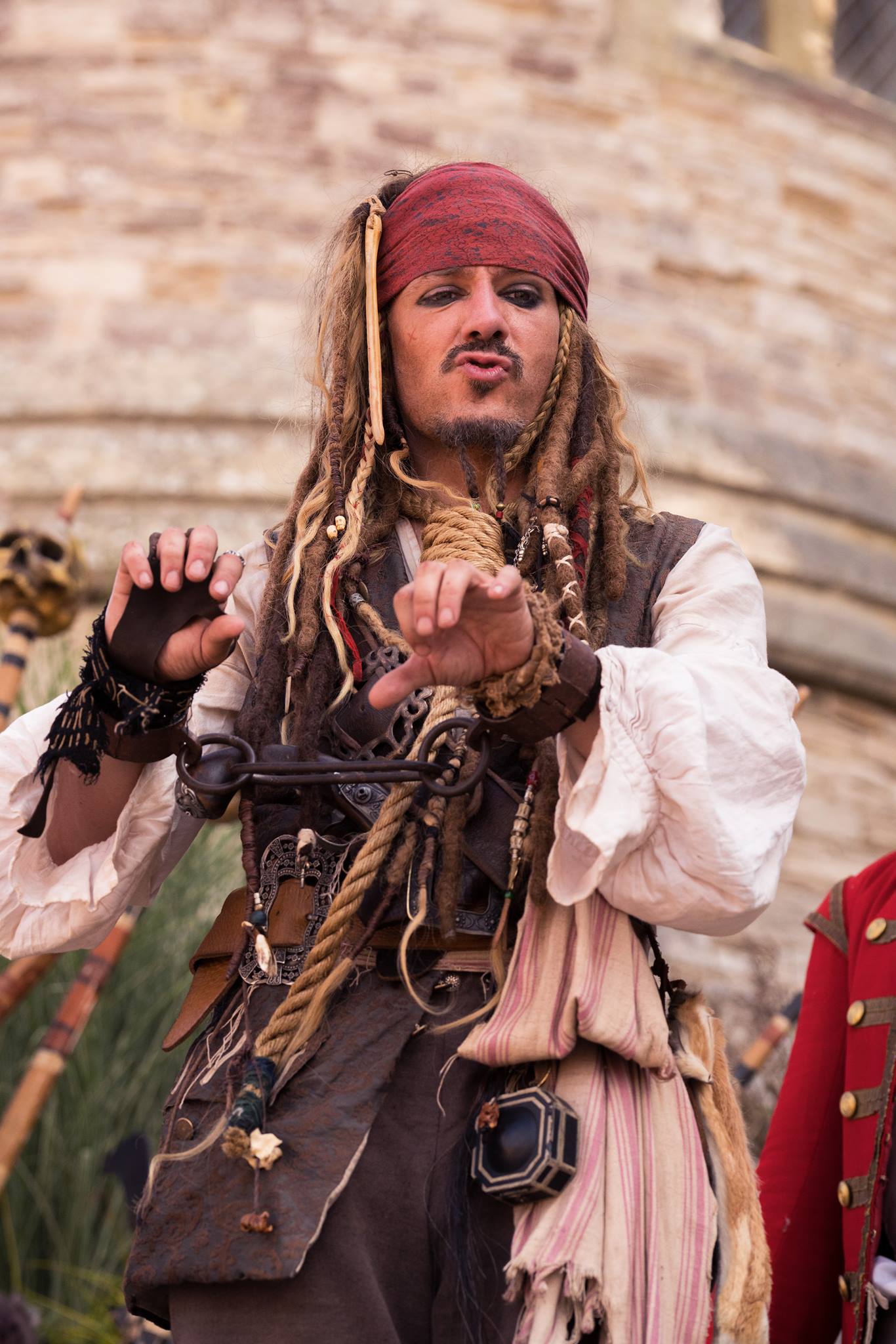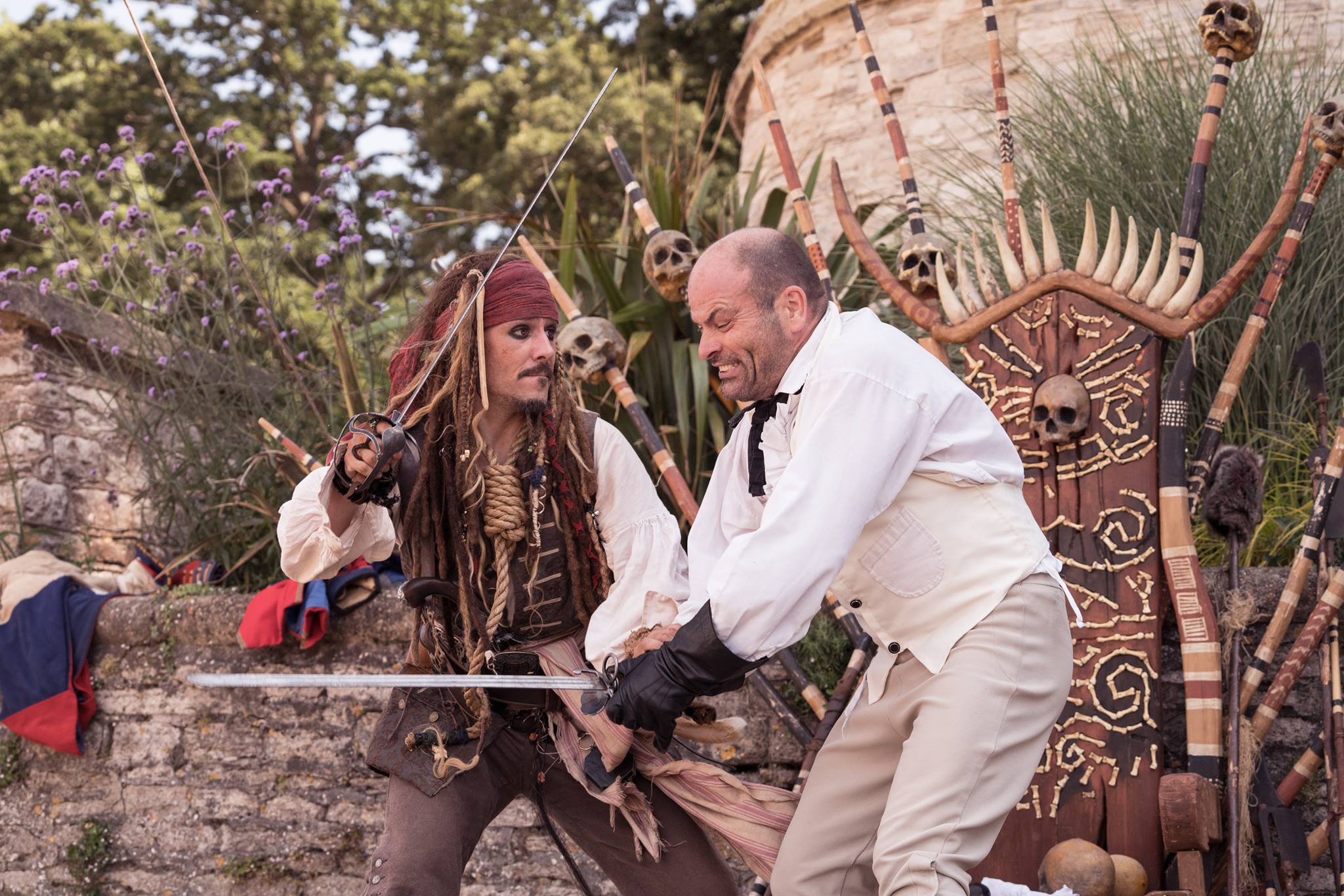 Jack Sparrow Lookalike
Simon is the only person to be credited as Johnny Depp's photo double for the UK filming of Pirates of the Caribbean: On Stranger Tides.  Not only is Simon lucky enough to pass for Johnny Depp in looks, but he is also the same size as the Hollywood star from his height down to his hand size.  So when you are watching the film you never know when you might be catching a glimpse of Simon himself.
Simon has spent many thousands of pounds and countless months of painstaking research to make sure that every aspect of his costumes are as close to the originals as possible – not only the right fabrics, designs, and details, but making those look suitably aged and broken down.  Ask yourself would you really want to hire someone who is wearing something you can just buy from a fancy dress shop?
Being such a unique character, you often see impersonators come up with a very over the top caricature-like Captain Jack.  Simon makes his characterisation as real to life as possible, as if Johnny Depp has walked off the film set.
Jack Sparrow Lookalike Is Ideal For
Corporate Events, Pubs, Bars, Private Events, Private Functions, Social Clubs, Weddings, Sporting Events, Festivals, Working Men Clubs, Sports And Social Clubs, Parties, Clubs, Charity Events, Children's Parties, After School Clubs, School HOlidy Clubs, Summer Fetes, Tv, Army Events, And Holiday Parks
Performance Fee: Please Call 07515789837 Agency Fees Do Not Apply
Simon came to my sons 5th Birthday party ...a very keen Pirate of the Caribbean fan , he was overwhelmed with Capt Jack Sparrows visit! Simon worked so well with the kid's entertainer, despite having just met her ...it was a great party for both the adults & Kids. A master of his craft, Simon looks & sounds just like Mr. Depp & and if that's not enough he was a thoroughly nice bloke to book... super easy to liaise with. Thank you Simon x
R O'Neill,
Act Category
Enquire About This Act
Hello, I'm Jeannette Webb the owner, MD and Queen Bee here at M8 Entertainment.
My goal is to give you THE best act for your event and ensure it all goes smooithly.
Please use our form to enquire about this act and we will do our best to reply either same day or within 24 hours during office hours. If you have an URGENT requirement it is always best to call us on...
Act Booking Hotline: 01772 631160
My Personal Mobile: 07515 789837
We look forward to adding the WOW Factor to your Corporate Event, Wedding or Special Occasion whatever it is you are celebrating.
What Our Lovely Customers Say About M8 Entertainments
Chelsey
"I have been working with Jen from M8 for five years now. we have live entertainment 7 days a week, twice at the weekend. These are things we love about M8. M8 provides the best entertainers at affordable prices from solos to bands. I can phone Jen at any time, I am sure she works… 24/7 and she will always sort everything out for me straight away. Jen is extremely helpful, she seems to be really liked by her acts as well. Jen and her team will go the extra mile, nothing is too much trouble, a first class agent." "Chelsey"
Chelsey
Liverpool
Asda
"M8 Agency went the extra Mile to organize a brass band for our morning event, also a cover's band for our afternoon event. Jen and her team were so helpful and understanding leading up to this very important event in Asda's calendar. All my worry was taken off my shoulders. It was a perfect day,… great feedback with regard to the entertainment. M8 are without a doubt a professional company. Very impressed with their service." "Asda"
Asda
Event Booker
"To say that M8 go the extra mile is an understatement. The team finds interesting and talented acts from original singer/songwriters, to cover acts and tribute bands. These guys literally are the fast hotline to a good time, the artists arrived on time, well briefed and professional. Outstanding!"
Event Booker
Marlow, Buckinghamshire
Paul Sweeney
"I've used this company for 3 years now, and they are by far the best agency I have used. And they are actually the only agency I would use now. The standard of acts is extremely high and also very diverse. They are also great to work with. I have also phoned they have booked… me acts at short notice and they were also of a great standard. Jen is extremely helpful booking agent and seems to be really liked by her acts also." "Paul Sweeney"
Paul Sweeney
Antic London
SMILE
"I just wanted to thank you personally for going all out, and finding us Shaun at short notice and understanding my frustrations at such a busy time. I know, I had already told you how good we all thought Shaun was but I just thought I would also send you an email as well. I… have got your details to hand for our next event and hopefully will soon be in touch again with a date. I have also have no problem at all in letting people know about your company and the excellent service and professionalism you had both shown, at all times it goes a long way." "SMILE"
SMILE
Preston
Gareth and Joan
"M8 is the best agency in the UK, I have used this company for 5 years now and Jen is always providing the best quality acts. Jen is the most helpful agent I have ever come across. Thank you for all your hard work."
Gareth and Joan
North East